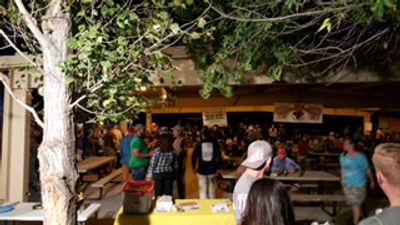 Tuesday, October 13
4:00-7:00 pm

On-Site Vehicle Inspections & Registrations

4:00-7:00 pm

10 lbs. bags of Reddy ice for sale under the Pavilion

Santa Fe Grill

will be providing food & drink adjacent to the Pavilion for your convenience for early breakfast, take away lunch & dinner. See menu below.
Thursday, October 15
6:00-8:00 am & 6:00-8:00 pm

On-Site Vehicle Inspections & Registrations

6:00-8:00 am & 6:00-8:00 pm

10 lbs. bags of Reddy ice for sale under the Pavilion

6:30-8:00 am

Santa Fe Grill

will offer coffee & breakfast burritos & sandwiches adjacent to the Pavilion.

4:00-7:00 pm

Las Cruces Radio

on site providing CB radio repair, technical assistance & sales

5:30 pm

to whenever,

Santa Fe Grill

will be providing food and drink adjacent to the Pavilion for your later afternoon & evening hunger!

8:00 pm

50/50 Raffle
Friday, October 16
6:00-8:00 am & 6:00-8:00 pm

On-Site Vehicle Inspections & Registrations

6:00-8:00 am & 6:00-8:00 pm

10 lbs. bags of Reddy ice for sale under the Pavilion

6:30-8:00 am Santa Fe Grill

will offer coffee & breakfast burritos & sandwiches adjacent to the Pavilion.

4:00-7:00 pm

Las Cruces Radio

on site providing CB radio repair, technical assistance & sales

5:30 pm

to whenever,

Santa Fe Grill

will be providing food and drink items adjacent to the Pavilion for your later afternoon & evening hunger!

6:00 pm

enjoy the annual Chile Challenge

Ice Cream Social

under the Pavilion by the New Mexico Off Highway Vehicle Alliance NMOHVA

6:00 pm

the

Piñata

for the kids to enjoy under the pavilion

6:30 pm

after the Piñata beating, at the fire pit adjacent to the Pavilion, Mr. William White, author of

The Lost Treasure of the Caballos

will tell stories of the amazing accounts of the treasure lore and legends of this mystical mountain range, the Caballos, through which the Chile Challenge takes place.

7:00 pm

Vendors are on stage to present their products & take questions

8:00 pm

50/50 Raffle